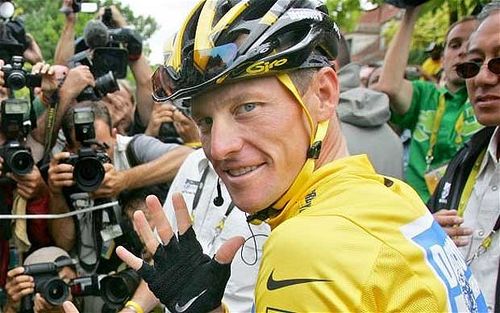 Though he still calls the US Anti-Doping Agency's investigation into his career an "unconstitutional witch hunt," cyclist Lance Armstrong said he will no longer challenge charges that he took performance-enhancing drugs to become the world's most famous biker.
From the New York Times:
[Armstrong] continued to deny ever doping, calling the antidoping agency's case against him "an unconstitutional witch hunt" and saying the process it followed to deal with his matter was "one-sided and unfair."

"There comes a point in every man's life when he has to say, 'Enough is enough,' " Armstrong said in a statement. "For me, that time is now."

Armstrong, who turns 41 next month, said he would not contest the charges because it had taken too much of a toll on his family and his work for his cancer foundation, saying he was "finished with this nonsense."

Armstrong's decision, according to the World Anti-Doping Code, means he will be stripped of his seven Tour titles, the bronze medal he won at the 2000 Olympics and all other titles, awards and money he won from August 1998 forward.
Nor can he compete professionally, coach new bikers or have anything to do with Olympics, other than to attend as a spectator.