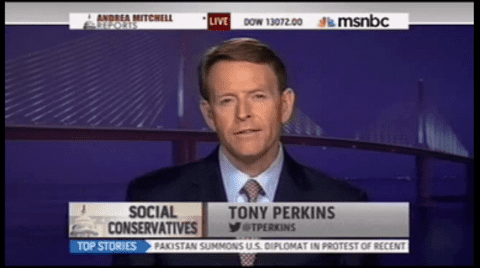 Continuing his ideological defense of Todd Akin's "legitimate rape" remark, Family Research Council president Tony Perkins said the GOP Senate hopeful's remarks were simply a "Biden-ism," a reference to Vice President Joe Biden's habit of sticking his foot in his mouth.
"It was a Biden-ism that he made," said Perkins on MSNBC yesterday. "It was inexcusable, it was inappropriate. He has acknowledged as such, and he's moving on." Perkins later said it was "time to move on" and insisted again that Akin is just like Biden: "I totally have rejected what he said as being inappropriate and unartful and he should have never said it… It is what it is. It's a Biden-ism."
You can watch video of Perkins' remarks, via Mediaite, AFTER THE JUMP.