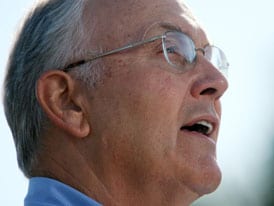 Poor Larry Craig. The ex-senator, famous for his wide stance in airport bathrooms, is currently fending off demands from the Federal Elections Commission that he personally repay the $217,000 spent on his legal defense in the gross/funny/sad leadup to his resignation in 2007.
The FEC sued Craig in June in U.S. District Court in Washington, D.C., alleging he converted the campaign money to personal use by spending it on his legal defense after he was accused of soliciting sex in a Minneapolis-St. Paul International Airport bathroom. The commission argues Craig's defense had no connection to his campaign for federal office.
The ex-senator begs to differ. He insists out that his trip to the airport was pure business — was constitutionally mandated, in fact, because he was headed to D.C. to fulfill his senatorial duties — and as such, any expenses incurred while using the airport's amenities ought to be reimbursed by the United States government. Craig and his lawyers claim the assertion has precedent. From the AP:
In documents supporting his bid to have the complaint dismissed, Craig cites the case of former U.S. Rep. Jim Kolbe of Arizona, who tapped campaign money in 2006 to defend himself after allegations of improper behavior emerged against him following a Grand Canyon rafting trip with two former male pages.