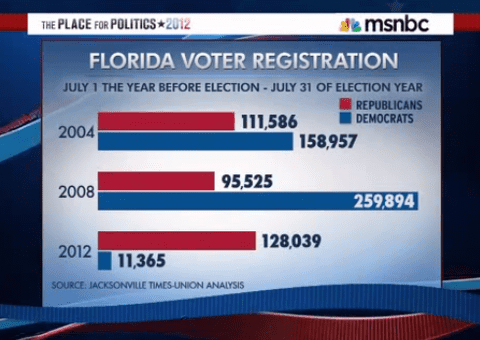 Republican lawmakers from coast-to-coast have been using their power and positions to slowly erode voter registration laws, thereby blocking ballot box access for millions of Americans, most of whom lean Democrat.
In a Tuesday night segment over at MSNBC, Rachel Maddow took a deep, long look at what's been happening in Florida.
Today the Florida Times Union released some remarkable new analysis on voter registration in Florida that I almost cannot believe.

[In] '04, 159,000 new Democrats registered to vote over that time period. In '08, same time period, 13 months, it was pretty much the same story… Democratic voter registration surging in the same time period before the election.

But then last year, Florida Republicans made it harder to register to vote in the state. Look at what has happened in the lead up to this year's election over an equivalent time period. Look. New Democratic voter registration has disappeared in Florida. It has fallen off a cliff, over the same amount of time – look, the Republican numbers have been basically static.
Watch Maddow and Chris Matthews discuss Florida and other states where voter registry have been decimated AFTER THE JUMP.