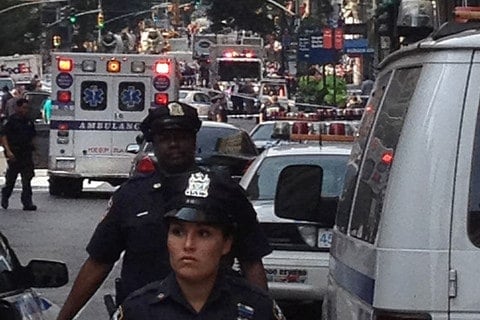 We're getting more details about this morning's shooting at the Empire State Building in New York City.
According to CNN's latest update, a 53-year old man named Jeffrey Johnson was recently fired from his job as an accessories designer at Hazan Imports and went to the building this morning to enact violent revenge. One of the confirmed fatalities is one of his former colleagues.
From CNN:
A gunman fatally shot a former coworker in the head outside the
Empire State Building Friday morning before he was killed by police
officers, New York Police Commissioner Ray Kelly said.

The suspect, 53-year-old Jeffrey Johnson, was a "disgruntled former
employee" of a company located inside the Empire State Building, Kelly
said. As he tried to flee the scene, a construction worker alerted two
police officers, who pursued him down 33rd Street, Kelly said.

Johnson pulled a .45 caliber gun on the approaching police officers
but it not clear if he actually shot any rounds as police opened fire on
him, Kelly said.

Nine people were wounded or grazed in the crossfire, Kelly said.

"Some may have been accidentally shot by police officers," Kelly said.
Mayor Mike Bloomberg spoke about the shooting today and praised emergency service's rapid response. "There is no doubt that the situation would've been even more tragic
except for the extraordinary acts of heroism," he said. "New York City is the safest big city in this country but
we are not immune to the national problem of gun violence."