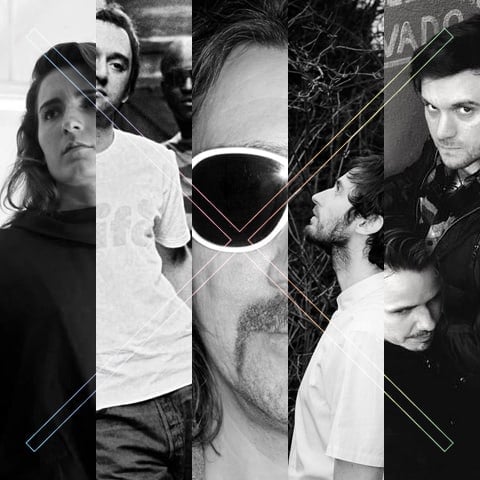 BY OCCUPY THE DISCO / TADEU MAGALHÃES
The OXD Mirror is a weekly music column brought to you by the boys of OCCUPY THE DISCO (OXD), a New York City based movement created by three music lovers, Ru Bhatt, Josh Appelbaum, and Tadeu Magalhães, who want to share their love for disco, house and dance music with the world.
Deniz Kurtel & Pillowtalk feat. Tanner Ross: 'I Knew This Would Happen'
Deniz Kurtel has lived around the world, hailing from Turkey all the way to Brooklyn, and now in Berlin. A prolific L.E.D. artist, Kurtel became acquainted with house music while living in the States by attending several of the Wolf + Lamb parties at the Marcy Hotel in Williamsburg, and since then has been involved with producing electronic music. Her sophomore album, The Way We Live, was just recently released on Wolf + Lamb records, featuring, among other gems, the deep soulful opening track titled 'I Knew This Would Happen.' A collaboration with fellow label mates Tanner Ross and PillowTalk, the song is a relaxing treat to the ears and mind with its extended melodies and slow beats.
Chicken Lips: 'D.R.O.M.P.'
The British collective known as Chicken Lips has been creating outstanding tracks for the dancefloor since 2000, focusing on a bass oriented house music style heavily influenced by 80s electro and italo-disco. Their most recent work, 'D.R.O.M.P.' (which stands for "don't rain on my parade"), is a classic NYC disco-inspired track. Though their signature bass line is still included, this time around they've complemented it with beautiful vocals by Charmaine and heavy percussion. The result is quite lovely and very much worth the highlight. If you like it as much as I do, you might want to check out the rework by The Emperor Machine on our website, which takes this already amazing track to a whole new level.
Daniele Baldelli & DJ Rocca: 'A TV Show feat. Ghostape'
Daniele Baldelli's collaboration album with DJ Rocca is rapidly becoming one of my favorite releases of 2012. The two Italian producers have very solid careers: Baldelli was a resident DJ at Cosmic in the late 70's and was involved in the creation of what is known as cosmic disco; DJ Rocca is a constant collaborator with legendary French DJ and producer Dimitri From Paris under the moniker Erodiscotique, with three EPs released on Gomma Records, one of which includes an amazing cover of Pet Shop Boys' 'Domino Dancing.' The track  'A TV Show' is clearly a standout from Daniele and Rocca's new album. It may be the least spacey song on the release, featuring strong vocals by Ghostape, but still belongs to the same hypnotic disco world they have created. 
MORE TRACKS, AFTER THE JUMP…
Mock And Toof: 'My Head feat. Ghostape'
Staying on trend with the last track, the latest Mock & Toof song, 'My Head,' also features vocals by Swiss artist Ghostape, adding to the slow dance track flawlessly. Mock & Toof is in the process of releasing their second album, Temporary Happiness, in October, following their great 2010 debut titled Turning Echoes.
Walker & Royce – 'Little Things (Eli Escobar Remix)'
Brooklyn duo Walker & Royce have recently formed and started producing dance songs together, as part of the Nervous/Nurvous crew. In the hands of another New Yorker, Eli Escobar, their brand new disco-funk release 'Little Things' becomes a true house music track with added pianos and all elements from a classic Chicago house anthem. This one will definitely be on repeat for a while.
OCCUPY THE DISCO (OXD) curates and recommends music events to the gay community in NYC—in an effort to move the focus of the nightlife scene beyond the promoter and venue and to the music itself. OXD's goal is to educate, entertain, engage and empower the gay audience to reclaim their ability to question and experience the unknown. The OXD Mirror will serve to showcase tunes that are definitely off-the-beaten-path but rightfully deserve the attention of the gay ear. It's music that will make you dance, dream, and most importantly, love.
This week's post was written and curated by Tadeu Magalhães.
For more information on OXD, check out our website and accompanying blog at www.occupythedisco.com, like us on Facebook, or follow us on Twitter: @OccupyTheDisco.