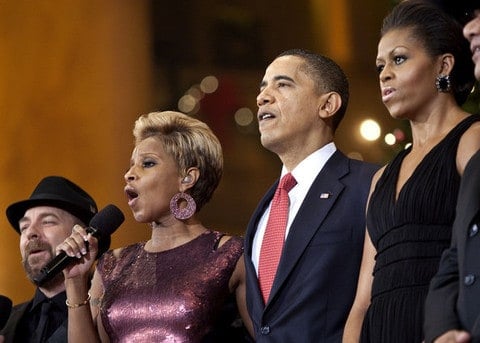 With the Republican National Convention wrapped up and Mitt Romney now that party's official nominee, the Democratic Party is prepping for their own confab and today announced that Mary J. Blige, Earth, Wind and Fire as well as the Foo Fighters will be performing the night President Obama and Vice President Joe Biden officially start their reelection campaign.
Blige is a favorite of the Obama administration's: she appeared at the 2009 inauguration and at a White House holiday event. James Taylor, Inspire the Fire, Marc Anthony and the folk rockers from Delta Rae will also perform at the Charlotte event starting next week.
Los Angeles MayoR Antonio Villaraigosa, chair of the event, said the musical talent "only adds to the excitement building in Charlotte for the historic week ahead of us."
"The tens of thousands who will attend convention events in person, and all those tuning in across the country, should be ready for quite a show," he said.