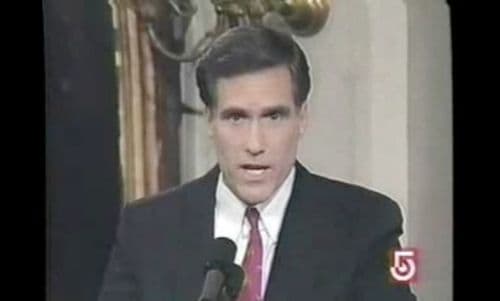 Mitt Romney tentatively, meekly, quietly, through spokeswoman Andrea Saul, took a position on something this weekend. He believes now, as he believed 18 years ago, that gay people should be allowed to participate in the Boy Scouts, though he doesn't believe the Scouts should be compelled to adjust policy in accordance with his personal opinion.
The news is buried very near the bottom of this AP story, which is otherwise about Eagle Scouts returning their medals:
In contrast to Obama, Republican candidate Mitt Romney does have a public position on the Scouts' policy — he politely disagrees with it.

Back in 1994, during a political debate in Massachusetts, Romney said this: "I support the right of the Boy Scouts of America to decide what it wants to do on that issue. I feel that all people should be able to participate in the Boy Scouts regardless of their sexual orientation."

A Romney spokeswoman, Andrea Saul, said in an e-mail that this remains Romney's position today.
The way in which this news was made suggests Romney doesn't want to make headlines, but the saucy people at GLAAD don't care. They issued a press release yesterday, which reads, in part:
Romney joins hundreds of thousands of Americans including politicians, celebrities, and corporate leaders from AT&T and Ernst & Young (who also happen to be board members of the BSA) in speaking out against the Boy Scouts of America's ban on LGBT scouts and scout leaders …
One note, though. At the time Romney made the statement about his personal beliefs vs. the right of the Boy Scouts to self-determination, he was actually on the Boy Scouts' National Executive Board. Which means his personal opinion should have been part of the Boy Scouts' self-determination. Saying that "they," the Boy Scouts, have the right to decide whom to admit to their ranks makes little sense. He should have said "we," and then explained when, why, and how he and the rest of the scouting world had parted ways on the issue.
See Romney's original, 1994 answer to the scouting question AFTER THE JUMP …