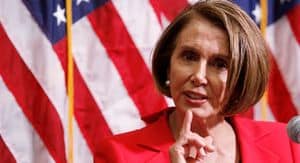 Andrew reported Thursday on the announcement by the Department of Homeland Security, made to BuzzFeed's Chris Geidner, that DHS now considers the marriages of same-sex binational couples a serious impediment to beginning deportation proceedings against gay "illegal" immigrants:
The statement — which comes in response to pressure from House Democrats and advocates — makes explicit that the Obama Administration will consider same-sex marriages a reason not to start deportation proceedings.

"[W]hen exercising prosecutorial discretion in enforcement matters, DHS looks at the totality of the circumstances presented in individual cases, including whether an individual has close family ties to the United States as demonstrated by his or her same-sex marriage or other longstanding relationship to a United States citizen," [DHS Deputy Press Secretary] Peter Boogaard told BuzzFeed Monday.
But this is essentially what the DHS has been saying since August 18th, 2011, and House Minority Leader Nancy Pelosi is unsatisfied. Early last week, Ms. Pelosi sent a letter to DHS Secretary Janet Napolitano, demanding that the Department's policy vis a vis the foreign spouses of gay citizens be codified and set in writing. The demand didn't change after BuzzFeed published Mr. Boogard's statement. From BuzzFeed:
Responding to Thursday's report, Pelosi spokesman Drew Hammill said today, "It's a welcome development that a DHS spokesperson is explicitly and publicly acknowledging that DHS's consideration of family ties includes same-sex couples and spouses. We look forward to the written guidance that we expect would be a logical next step."

… Although BuzzFeed requested a copy of any [written policy detailing DHS's current stance], the only policy to which BuzzFeed has been directed by any DHS officials is a 2011 policy that makes no mention of same-sex couples.