Charlie Rogers, a Lincoln, Nebraska woman who said late last month that three men broke into her home, tied her up, carved 'dyke' into her stomach and the tried to set her home ablaze will be charged with fabricating the attack, NBC News reports: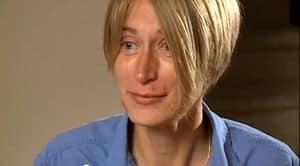 Police said they interviewed Rogers on four separate occasions. Now, police said, because of inconsistences in her various accounts of the attack and forensic DNA evidence, a warrant has been issued for her arrest.
There was no apparent struggle in the room where Rogers said she was attacked on her bed, the warrant for her arrest says, which also described the bedspread as appearing "neat" and "evenly placed on the bed."
"There was no apparent blood on the bedspread; even though Ms. Rogers reported she was rolled on to her stomach after she had been cut on her arms, abdomen, chest and front legs while being held down."
Forensic tests of Rogers' bedding at the University of Nebraska Medical Center found no traces of blood.
Additionally, the FBI sent photos of the cuts on Rogers to a coroner's physician for Lancaster County, who consulted with Dr. Michelle Elieff, a forensic pathologist. According to the warrant, Elieff said Rogers' cuts appeared to be self-inflicted.
Other evidence did not hold up either. Police are expected to arrest Rogers today.
Said Rogers in an interview shortly after the alleged attack, which prompted vigils which hundreds of people attended:
"The idea that people think it's a lie is so hurtful. It's understandable. Intellectually I understand that people have a hard time wrapping their heads around what happened. So do I. But I'm a person, with feelings, with concerns. It's just so…it feels like a punch in the stomach. Like a betrayal, instead of the focus being on safety, healing…I'm not a pawn in a game. I'm a person."
UPDATE: Rogers has been arrested.
Charlie Rogers was arrested after meeting with investigators Tuesday afternoon. The Omaha World-Herald reports Rogers appeared in court Tuesday and pleaded not guilty to the charge of false reporting. Her attorney, Brett McArthur, told the paper "To go through such a tramatic (sic) experience as she has been through and now be accused of a crime has made this even more difficult."