A new study reveals that sexual orientation can be detected by looking at the pupils of our eyes.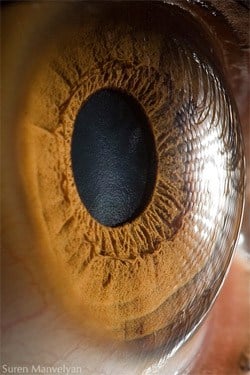 Science Daily reports:
For the first time, researchers at Cornell University used a specialized infrared lens to measure pupillary changes to participants watching erotic videos. Pupils were highly telling: they widened most to videos of people who participants found attractive, thereby revealing where they were on the sexual spectrum from heterosexual to homosexual.
The findings were published August 3 in the scientific journal PLoS ONE.
Previous research explored these mechanisms either by simply asking people about their sexuality, or by using physiological measures such as assessing their genital arousal. These methods, however, come with substantial problems.
"We wanted to find an alternative measure that would be an automatic indication of sexual orientation, but without being as invasive as previous measures. Pupillary responses are exactly that," says Gerulf Rieger, lead author and research fellow at Cornell. "With this new technology we are able to explore sexual orientation of people who would never participate in a study on genital arousal, such as people from traditional cultures. This will give us a much better understanding how sexuality is expressed across the planet."
The idea for this study came out of past research indicating that our pupils naturally dilate when we see something interesting. This is an involuntary response activated by our autonomic nervous system, a bodily system that controls breathing, digestion, heart rate, and many other automatic processes. Pupil dilation is therefore something that it unlikely to be under a person's conscious control. One previous study conducted in the 1960s found that people's pupils tend to dilate when they see sexually arousing imagery, but that study only looked at a total of 10 participants (half heterosexual and half homosexual), all of whom were men.
In the new study, 325 men and women of varying sexualities (heterosexual, homosexual, and bisexual) watched a series of one-minute video clips in random order. The video content was either a man masturbating, a woman masturbating, or a neutral landscape. A gaze-tracking camera measured the size of participants' pupils every two milliseconds as the videos were shown. All videos were of equivalent brightness to ensure that changes in light did not affect pupil size.