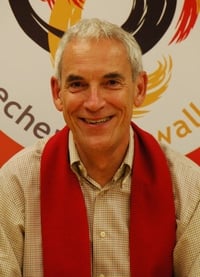 The United Church of Canada, that nation's largest Protestant church, made history by electing openly gay Rev. Gary Paterson as the new moderator for its 41st General Council.
From The Ottawa Citizen:
The 350 voting commissioners at the general council greeted the announcement with cheers and a prolonged standing ovation, and quickly voted to make Paterson's election unanimous.

"I am so humbled by the trust and the responsibility you have placed in my hands," Paterson told them.
…
At a news conference following his election, Paterson acknowledged the historic nature of his election. "Among main line denominations, as far as I know this is probably a first," he said. But he added that he was heartened that his sexuality had been a non-issue with those who voted for the new moderator."

"I would suspect that that's the primary news story. What some denominations or some parts of the world see as a huge dilemma or problem has not, within our immediate community here, been seen that way at all."
Paterson was one of four openly gay people up for the position.