EXCLUSIVE
Towleroad has obtained a letter sent today by gay PETA Senior VP Dan Mathews to Lady Gaga's rep at 42 West, Amanda Silverman. In the letter, Mathews asks Gaga about two recent photos of her wearing designer fur apparel, and a promotional poster for Robert Rodriguez' Machete Kills film in which she is draped in a wolf carcass.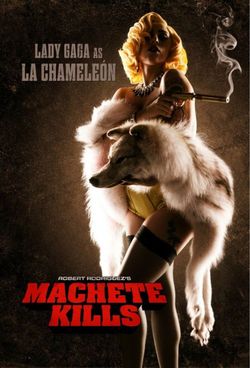 Mathews warns Gaga that she should clarify her position on the fur industry or risk becoming a target like Kim Kardashian.
Mathews' letter:
Dear Gaga,
Many of your gay fans, I among them, have long admired what you told Ellen: "I hate fur, and I don't wear fur." I included a link because these recent photos of you in fox and rabbit and with a wolf carcass make it appear that you have amnesia. I'm also including this brief video hosted by Tim Gunn showing the violent cruelty that you promote when you wear fur. What happened? Are your stylists telling you that it's fake, or are you a turncoat? Many gays are animal advocates because we recognize that the same arrogance and indifference that some have toward animal suffering has at times been directed toward us personally because of our orientation. PETA has long participated in Pride events around the country, and just last week, we helped lead protests against Chick-fil-A. But by wearing those dumb furs in a heat wave, you're making yourself a target just like the mindless Kim Kardashian. As we plan our fall campaigns, please tell us whether what you gracefully told Ellen was heartfelt or just a pose.
 
We await your reply.
 
Sincerely,
Dan Mathews
Senior VP
PETA
Kardashian was flour-bombed by a PETA activist in March at a red carpet event.