Mark O'Donnell, a writer and Tony Award-winner for the play Hairspray, was found dead in front of his apartment on the upper west side of Manhattan, DNAInfo reports: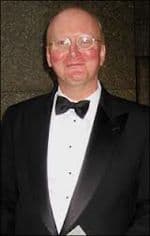 Mark O'Donnell, 58, went into cardiac arrest and collapsed in front of his home at the Terrace Court at 202 Riverside Drive, near West 93rd Street, police and fire sources said. The humorist was pronounced dead at the scene, fire officials said.
O'Donnell's devastated twin brother Steve O'Donnell, a TV writer in Los Angeles, said Mark was an "unusual, brilliant, playful spirit and he's going to be missed very much."
"I loved him more than any other person on earth," Steve O'Donnell said in a phone interview Monday. "I think he'll be remembered for having a unique, inspired take on things that was both eternally wise and beautifully innocent."
O'Donnell is believed to have died of natural causes.
His other plays include That's It, Folks!, Fables for Friends, The Nice and the Nasty, Strangers on Earth, Vertigo Park, and the musical Tots in Tinseltown. He wrote two novels, Getting Over Homer, and Let Nothing You Dismay, and published two collections of comic stories, Elementary Education, and Vertigo Park and Other Tales. He also adapted Georges Feydeau's Private Fittings for the La Jolla Playhouse in California and a symphonic version of Pyramus and Thisbe for the Kennedy Center. He received a Guggenheim Fellowship and the George S. Kaufman Award.