A new poll shows Obama up in key swing states, CNN reports: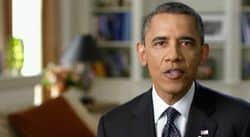 The Quinnipiac University/CBS News/New York Times polls showed Obama leading his Republican challenger Mitt Romney in Florida 51%-45%, in Ohio 50%-44%, and in Pennsylvania 53%-42%. Florida and Ohio are considered toss-ups in November's general election, while Pennsylvania is rated "lean Obama" on CNN's Electoral Map.
The poll indicated that only 4% of likely voters in each of the three states had yet to decide on a candidate to support. Among Romney backers, 10% in Florida and Ohio and 9% in Pennsylvania said they could change their mind before November. Eleven percent of Obama's supporters in Florida said they could change their minds, compared to 13% in Ohio and 15% in Pennsylvania.