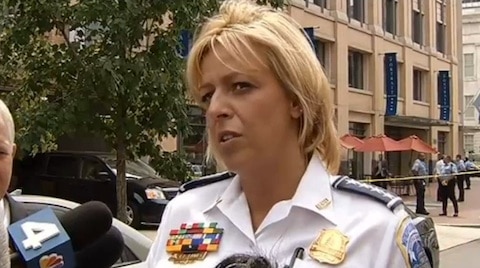 Some more information on the shooting at the Family Research Council headquarters in Washington D.C. this morning in which a security guard was shot. The local NBC affiliate is reporting that there were Chick-fil-A promotional materials in the shooter's backpack. He hasn't yet been identified.
"The security officer here is a hero, as far as I'm concerned," Metropolitan Police Department Chief Cathy Lanier said. "He did his job. The person never made it past farther than the front door."
The shooter entered the building at 801 G Street NW at around 10:45 a.m. Wednesday. He approached the front desk and said he was an intern before pulling a Sig Sauer 9 mm handgun from a backpack. The guard confronted him, and they had an altercation before the shooter fired, striking the guard in the arm. Despite his injury, he gained control of the weapon and held it on the suspect.
Authorities found two loaded magazines with 15 rounds each in the suspect's backpack, as well as Chik-Fil-A promotional materials, NBC4's Jackie Bensen reported…
…The suspect's name has not yet been released, but he is from the D.C. area and was born in 1984, NBC's Pete Williams has learned. The suspect apparently took the Metro downtown and parked his car at a Falls Church Metro station, Williams said. It's not currently clear whether it was East or West Falls Church.
Watch MPD Chief Cathy Lanier make a statement, AFTER THE JUMP…
Earlier…
Security Guard Shot at Family Research Council HQ in Washington D.C.: VIDEO [tlrd]
23 LGBT Groups Issue Statement on Family Research Council Shooting [tlrd]
View more videos at: http://nbcwashington.com.
View more videos at: http://nbcwashington.com.