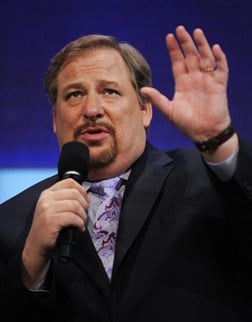 Influential Evangelical Pastor Rick Warren claims he canceled a proposed presidential forum that would feature both Barack Obama and Mitt Romney because it would be "hypocritical to pretend civility for one evening only to have the name-calling return the next day."
"The forums are meant to be a place where people of goodwill can seriously disagree on significant issues without being disagreeable or resorting to personal attack and name-calling," Warren told the Orange County Register. "But that is not the climate of today's campaign. I've never seen more irresponsible personal attacks, mean-spirited slander, and flat-out dishonest attack ads, and I don't expect that tone to change before the election."
According to both Democratic and Republican sources, however, no one wanted to go to Warren's forum because they don't think he's important enough and that's why he really called the whole thing off.
From CNN:
Sources close to President Barack Obama's and Mitt Romney's political campaigns challenged that explanation, saying the event was canceled because of a lack of interest from the respective campaigns.

"As I understand it, Pastor Warren received tepid responses from both camps well before the supposed 'cancellation,'" said a senior Democratic strategist in contact with the Obama campaign.

"It appears that the event was canceled because neither the Romney nor Obama campaigns thought it was in their interest to do," the strategist continued, speaking on condition of anonymity to discuss a delicate political matter.

A source close to the Romney campaign said that the former Massachusetts governor hadn't planned on attending Warren's event: "We were never going, ever. We offered to do a video."
You'll recall that Warren was a larger-than-life figure during the 2008 election, and he delivered the Invocation Prayer at President Obama's inauguration. But that was then and this is now and it now seems as if Warren's influence has completely waned.