Rosie O'Donnell married her partner Michelle Rounds in June before she had surgery after being diagnosed with desmoid tumors, a rare disease that only affects three out of every million people, People reports.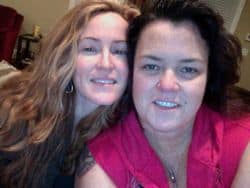 The two were originally supposed to be married in August, but they choose to get married quietly in June before Rounds's first surgery on June 14.
"It is such a rare tumor. It took them quite a while to get an accurate diagnosis," adds Berger. "She had several gastrointestinal surgeries to remove the desmoid turmors. She is now on the road to recovery."
O'Donnell confirmed the report in a poem on her blog:
we were to wed 10 days ago
but her illness forced us to postpone the wedding
luckily –
as i was in ICU that day
when it rains …
things grow
like love and flowers
humans too
so on we go
we married in private
before her surgery
just the 2 of us
when we r both well enough
will have the wedding of r dreams
surrounded by those we cherish
thankful for the love and support
so many have given us
during these trying times