Seattle resident Jason Jacobs says he and his boyfriend were kicked off Seattle's new tourist attraction, the Great Wheel, for holding hands and kissing on the ride: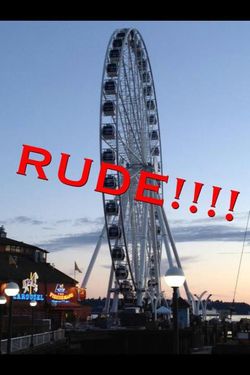 To my friends in Seattle and elsewhere, You should know if you are gay you run the risk of being bullied, harassed, and denied to ride The Seattle Great Wheel. Last night after paying $50 per person to ride on the VIP car, and waiting for over an hour, my date and i were asked, more like escorted, off the ride. They demanded the tshirts you get when paying to ride in the VIP car, refunded the tickets, then walked us off the property. This this happened only after my date and i held hands getting on the ride, sat down in the car and shared a little kiss. This isn't how Seattle normally treats people. We don't want this attraction and the Managment to give Seattle a bad reputation. Boycott The Seattle Great Wheel & make a call to action and help get some media attention to address this act of discrimination in our community.
The Seattle Great Wheel fired back on its Facebook page, claiming Jacobs and his companion were being unruly:
The Seattle Great Wheel welcomes people from all different backgrounds and lifestyles. We have never and will never discriminate against someone based on race, religion, sexual orientation or ethnicity. We do, however, reserve the right to refuse service to anyone who fails to cooperate with our safety guidelines and rules. We love and look forward to serving everyone who wants to enjoy the Seattle Great Wheel.
The allegations against the Seattle Great Wheel are totally false. Our company has a long history of serving and employing members of the GBLT community and we are deeply saddened that we are being labeled as homophobic. The two individuals were asked to leave because of their behavior, which included putting their shoes on the leather seats and acting disrespectfully and unruly to our staff. Their behavior delayed the operation of the wheel for several minutes, disrupting the ride for our other passengers. We politely asked them to leave after they refused to cooperate, and they were given a full refund. Our staff was unaware of their sexual orientation and that played no role in their being asked to leave. We look forward to having everyone ride the wheel, including our friends in Seattle's GBLT community.
According to KIRO, Jacobs was refunded his money for the ride, but wants "an apology and more sensitivity training for the staff."