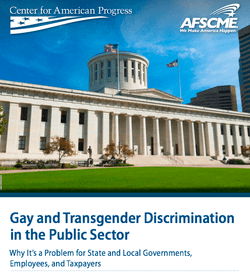 The Center for American Progress and the American Federation of State County and Municipal Employees today released a joint study examining the trials and tribulations LGBT Americans face in the public sector work place.
According to their findings, only 43% of LGBT state employees work in a state protecting gays and lesbians from on-the-job discrimination. Only 31% work in a state where gender identity is included in protections.
"This means that the majority of Americans working for state governments still do not have statutory protections against discrimination based on sexual orientation and gender identity," they say.
"When it comes to benefits, a majority of state employees do not work for a state that offers equal partner health insurance. Only 47 percent of state employees with same-sex partners have access to equal workplace benefits, compared to 53 percent who do not."
In addition to examining the legal aspects of these equality gaps, the study looks at something less political: dollars and cents. A taste of the survey's findings:
Contrary to commonly held stereotypes, families headed by same-sex couples make on average $15,500 less per year than families headed by opposite-sex couples. Similarly, children being raised by same-sex parents are twice as likely to live in poverty as children being raised by married opposite-sex parents.32 Whereas 9 percent of children living with heterosexual married parents are living in poverty, 21 percent of children being raised by male same-sex couples and 20 percent of children being raised by female same-sex couples live in poverty.

What's more, transgender people also face significant economic challenges. Fifteen percent of transgender people report making less than $10,000 per year, a rate of poverty that is nearly four times that of the general population.

These socioeconomic disparities are often the direct result of workplace discrimination.
…
Failure to retain qualified employees introduces significant costs, not the least of which are the costs associated with replacing the departing employees. It costs anywhere between $5,000 and $10,000 to replace a departing hourly worker and between an estimated $75,000 and $211,000 to replace an executive-level employee.
Here is a
PDF of the entire study.