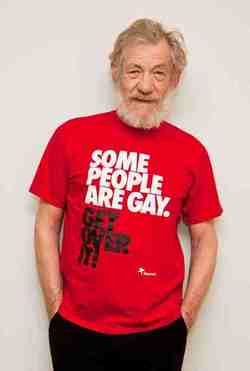 Researchers at the University of Michigan recently surveyed 114 lesbian, gay and bisexual students to see how the common phrase "that's so gay" has impacted their psychological lives.
The results are unsurprising:
Data suggests gay, lesbian and bisexual college students who heard "that's so gay" more frequently were more likely to report feeling isolated and to suffer negative health symptoms, such as headaches, poor appetite or eating problems.

Practically every respondent reported hearing "that's so gay" on campus at least once in the past 12 months. Nearly half of the students said they've heard the phrase more than 10 times within the year. Only 14 respondents—or 13 percent—hadn't heard it at all.

Hearing the phrase more often was found to increase students' risk of health problems and feelings of isolation.
The study's author, Michael Woodford, suggests that the phrase "that's so go" simply exacerbates pre-existing low self-esteems. "Given the nature of gay-lesbian-bisexual stigma, sexual minority students could already perceive themselves to be excluded on campus and hearing 'that's so gay' may elevate such perceptions," he said, according to Detroit's local CBS affiliate.
"'That's so gay' conveys that there is something wrong with being gay. And, hearing such messages about one's self can cause stress, which can manifest in headaches and other health concerns."
The study, called "That's So Gay!": Examining the Covariates of Hearing This Expression Among Gay, Lesbian, and Bisexual College Students", appears in the latest edition of Journal of American College Health.