Army reserve officer Tammy Smith (pictured with her wife Tracey Hepner) was promoted to Brigadier General today, and came out of the closet at the same time, the Stars and Stripes reports: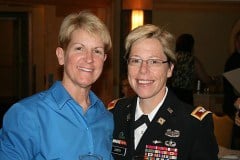 What she glosses over is that along with the promotion she is also publicly acknowledging her sexuality for the first time, making her the first general officer to come out as gay while still serving. It comes less than a year after the end of the controversial "don't ask, don't tell" law.
"All of those facts are irrelevant," she said. "I don't think I need to be focused on that. What is relevant is upholding Army values and the responsibility this carries."
But Smith's pinning ceremony on Friday marks an important milestone for gay rights advocates, giving the movement its most senior public military figure. She has already been assigned as deputy chief at the Office of the Chief at the Army Reserve, and spent much of 2011 serving in Afghanistan.
Congrats!