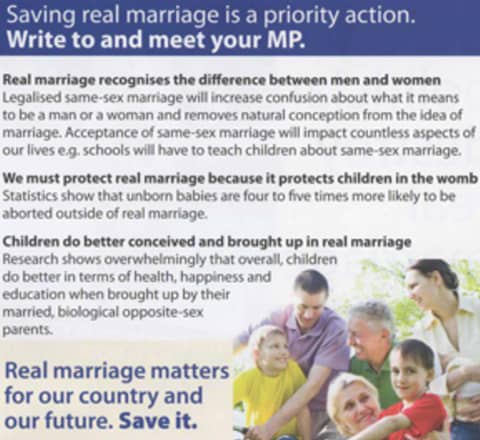 The UK-based conservative group Society for the Protection of Unborn Children has launched a propaganda campaign claiming that same-sex marriage will lead to a surge of abortions.
According to a flier they've sent around, "Statistics show that unborn babies are four to five times more likely to be aborted outside of real marriage." They do not cite a source, naturally.
Jamie Lee Curtis Taete from VICE called up the group to get the scoop on their spurious claims. It's pretty hilarious:
VICE: Hey! Great news, I looked into the abortion rates of countries where same-sex marriage has been legal for five years or more and, with the exception of one country, there hadn't been any rise in the abortion rates. 


SPUC: Right.

VICE: In Spain it rose, but in Canada and South Africa it fell. And in the Netherlands and Belgium, there was no significant change.


SPUC: Right… Well… I don't think anybody would expect any difference after five years. That's no time at all to make a judgement.

VICE: Well, it's been legal since 2001 in the Netherlands, so that's quite a long time.


SPUC: Eleven years is not a huge amount of time to expect a big rise in the abortion rates.

VICE: But, it's been 11 years… How long is it going to take before straight people start saying, "You know what, I don't want to get married because it's been weakened too much by gays"? Like, 20?


SPUC: It could be. When people do get married, the whole legal structure built around the child-rearing nature of marriage is removed. That may have consequences for the unborn, because the unborn, when it comes to the weakening of the definition of marriage, suffer most.
Some may say that the people who have to listen to such arguments suffer most, but, you know, it's all subjective.