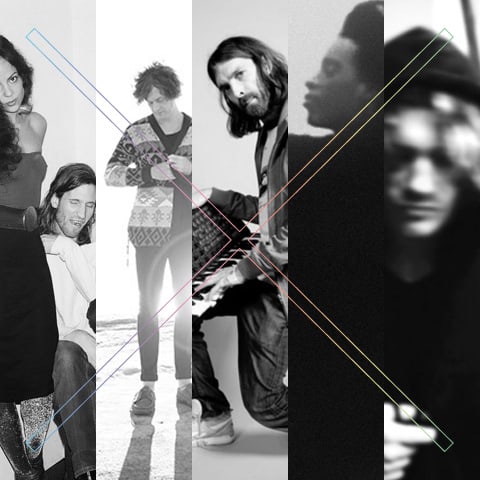 BY OCCUPY THE DISCO / TADEU MAGALHÃES
The OXD Mirror is a weekly music column brought to you by the boys of OCCUPY THE DISCO (OXD), a New York City based movement created by three music lovers, Ru Bhatt, Josh Appelbaum, and Tadeu Magalhães, who want to share their love for disco, house and dance music with the world. 
Thieves Like Us – 'Stay Blue'
Based in Paris and Berlin, the five-piece band known as Thieves Like Us released their third studio album,  Bleed Bleed Bleed earlier this year. They have been delighting listeners with a mix of sweet electro-pop tunes, and with 'Stay Blue' they venture in a dreamy disco trip that is just too good to miss. 
Panama – 'Magic (Midnight Magic Remix)'
Panama (lead by Jarrah McCleary) is off to a great start by joining many nu-disco and house acts on Australian record label Future Classic. Their first single, 'Magic,' has been remixed by Brooklyn disco act Midnight Magic, who is mostly known for their 2010 hit 'Beam Me Up.' Their rework for Panama's song is the exact kind of track needed for a summer afternoon: smooth, happy and beautiful.
Breakbot – 'One Out of Two (Oliver Remix)'
Breakbot is another exponent of the new French electronica wave that brought us big names like Daft Punk, Cassius, Fred Falke and Alan Braxe. The producer established his career through several acclaimed remixes and his first solo production, the 2011 disco hit  'Baby I'm Yours.' His debut album is due in September and the first track, 'One Out of Two,' has a delicious remix by LA duo Oliver. The producers add in their signature west coast style with chords and keyboards, taking the sweet original version and bringing it to a much groovier place.
MORE TRACKS, AFTER THE JUMP…
Rogue Vogue – 'When I Look At You'
Heavily influenced by his home city and motherland of house music, Chicago, Rogue Vogue draws inspiration from the late '80s/early '90s clubs where Ron Hardy, Frankie Knuckles, and Paul Johnson reigned supreme.  A new member of Perseus' French Express label, Rogue Vogue makes his debut with the release of 'When I Look At You,' available for free download. This is a song clearly meant for the dancefloor at its prime time.
Chris Malinchak – 'These Dreams'
At the risk of hitting on the same note (no pun intended,) French Express has also just released a new track by Chris Malinchak. 'These Dreams' features very soulful vocals by Damon C. Scott and trippy deep house melodies.   Download the track for free and enjoy the weekend.
OCCUPY THE DISCO (OXD) curates and recommends music events to the gay community in NYC—in an effort to move the focus of the nightlife scene beyond the promoter and venue and to the music itself. OXD's goal is to educate, entertain, engage and empower the gay audience to reclaim their ability to question and experience the unknown. The OXD Mirror will serve to showcase tunes that are definitely off-the-beaten-path but rightfully deserve the attention of the gay ear. It's music that will make you dance, dream, and most importantly, love.
This week's post was written and curated by Tadeu Magalhães.
For more information on OXD, check out our website and accompanying blog at www.occupythedisco.com, like us on Facebook, or follow us on Twitter: @OccupyTheDisco.