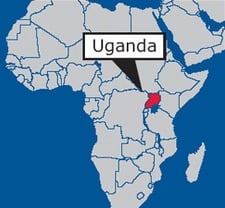 Though not surprising, this is disappointing: officials in Uganda, the African nation with an astoundingly, impressively homophobic government, recently shut down a play due to its gay subject matter.
From The Guardian:
The River and the Mountain, which tells the story of a young
businessman coming to terms with being gay in a climate of homophobia,
was due to be performed at the National Theatre of Uganda last week
before regulators intervened. Some shows went ahead at two smaller
venues, but the National Theatre refused to stage the scheduled
performances.

"We are all disappointed but not surprised that we
could not perform at the National Theatre," said the actor Okuyo Joel
Atiku Prynce, who plays the gay character at the centre of the story.
"What is surprising is the fact that we have received no clear reason.
No one is taking responsibility for this decision."

He said the
play was not intended to promote a specific agenda, but rather to add to
public debate. "We're actors, not activists," he said. "The play is
there to inspire discussion in the community and to get a reaction from
people. We want it to open up a dialogue."
The now-canceled play also addressed political and official discrimination in Uganda, so this action is basically life imitating art imitating life.