The U.S. Embassies in Moscow and St. Petersburg sent out a security message today for U.S. citizens regarding concerts tonight and Thursday by Madonna in those cities.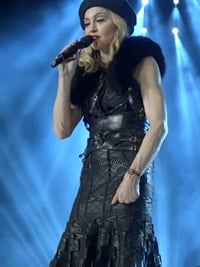 Says the warning:
This is to alert U.S. citizens in Russia who are planning to attend the Madonna concerts in Moscow on Tuesday, August 7, or in St. Petersburg on Thursday, August 9, that the U.S. Consulate General in St. Petersburg has received information regarding a threat of physical violence against spectators and performers at the St. Petersburg concert on August 9.  The U.S. Embassy in Moscow and the U.S. Consulate General in St. Petersburg have shared the information with appropriate Russian law enforcement authorities.  Russian authorities have indicated to the Embassy that they are taking appropriate measures in light of this information.  While we expect that enhanced security measures will be put in place at both concerts, U.S. citizens are reminded to remain vigilant regarding their personal security, and to be aware of their surroundings at all times, especially in crowded areas.
Specific details of the threat have not been made public.
Madonna said in March she would speak out against the oppressive ban on "gay propaganda" passed by St. Petersburg, an announcement that has her under surveillance by Russian authorities.
Madonna spoke out about feminist punk band Pussy Riot at Tuesday's concert, the Guardian reports:
Prosecutors on Tuesday called for the three women – Maria Alyokhina, Nadezhda Tolokonnikova and Yekaterina Samutsevich – to be jailed for three years after arguing they had insulted all of Russian Orthodoxy and posed a danger to society. They have been charged with hooliganism motivated by religious hatred after performing a "punk prayer" against President Vladimir Putin in a Moscow cathedral.
Performing in Moscow's Olimpisky Stadium on Tuesday night, Madonna donned a balaclava and stripped off her clothes to reveal the words "Pussy Riot" scrawled across her back during a performance of her 1984 hit Like a Virgin.
Said Madonna: "I know there are many sides to every story, and I mean no disrespect to the church or the government, but I think these girls … have done something courageous and they have paid the price for this act and I pray for their freedom. They deserve the right to be free."