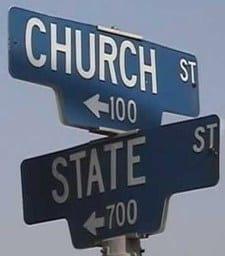 A network of churches in Washington State were given little more than finger wagging when it was revealed they have been collecting donations from parishioners looking to overturn marriage equality there.
The Washington Post reports that Catholic parishes were told by the Public Disclosure Commission that while they can encourage parishioners to give money, the church itself can no longer take in the money and then send it to the right wing group Preserve Marriage Washington. Either individuals send it in themselves or someone from the organization in question comes to collect.
Regardless of the rules, some Catholic Churches in Washington seem prepared to kick their fight for discrimination up a notch. "The Catholic Church, during the month of September, plans to up its teachings on marriage and on our understanding that marriage is a covenant between a man and a woman based on natural law, the Scriptures and our traditions," said Monsignor Robert Siler, chief of staff for Washington's Yakima diocese.
"We don't takes sides for or against candidates, but we do speak out against other issues. The Preserve Marriage Washington campaign aligns with our teachings, so we have no problem supporting it." He'd better get moving: the prohibition movement in Washington has raised about $480,000 to fight against marriage equality. Those fighting for marriage equality — Washington United for Marriage — have amassed about $6 million in donations.