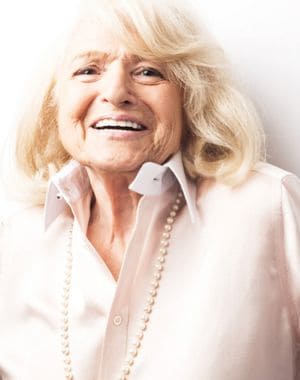 At the Washington Blade, Chris Johnson reports that 145 House Democrats yesterday filed a friend-of-court brief on behalf of 83-year-old widow Edie Windsor, of New York City, in the case of Windsor vs. The United States. (At least, they were scheduled to file the brief; Johnson's story was published before the filing was done.) Windsor's is the case that resulted US District Court Judge Barbara Jones ruling the Defense of Marriage Act unconstitutional this past June. House Republicans, led by John Boehner, appealed the ruling, and the case now sits with the Second Circuit court.
Edie Windsor's wife, Thea Spyer, died in 2009. The couple had been together since the 1960s, and were married in Canada in 2007. Upon Spyer's death, per DOMA, Windsor was forced to pay the government $363,000 in estate taxes.
From the Blade:
The 30-page brief lays out the case why DOMA should be stricken down
as unconstitutional, arguing Congress passed DOMA in 1996 out of animus
toward gay people.

Additionally, the brief says DOMA unfairly imposes estate taxes upon
married same-sex couples, saying "it is impossible to believe that any
legitimate federal interest is rationally served by depriving a widow
like [Edie] Windsor of the marital deduction that allows married couples
to pass property to the surviving spouse without penalty, thus
maximizing the survivor's financial well-being."
Oral arguments in the Second Circuit are scheduled to begin on September 27th. From the Blade:
Other groups that are expected to file friend-of-the-court briefs in
favor of Windsor are local governments, including New York City and the
States of New York, Connecticut and Vermont; the Partnership for New
York City — a group of CEOs from New York City businesses — the NAACP
Legal Defense and Educational Fund; Bar associations, labor unions and
civil rights, religious, cultural and LGBT organizations; Social workers
and national mental health and medical organizations; and professors of
U.S. history, family law, and family and child welfare law.