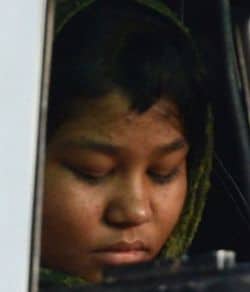 The Pakistani Christian girl named either Rimshah or Masih, who was arrested near Islamabad three weeks ago for allegedly burning pages of a Qur'an to start a cooking fire, has been released on bail.
The release comes nearly a week after a cleric from the girl's town, Imam Khalid Chishti, was arrested for framing the girl. From Haaretz:
A judge in Islamabad had granted Masih bail on Friday, but her release was delayed due to a procedural delay in the processing of surety bonds totaling 1 million Pakistani rupees (10,640 dollars).

… a Muslim cleric, Khalid Jadoon Chishti, was arrested [last] weekend for allegedly planting pages of the Koran in a bag containing burnt papers to frame the girl.

Imam Chishti has rejected the allegations by members of his mosque as "fabricated." But his accusers allege the cleric himself desecrated the Koran in an attempt to drive out the Christian minority from the neighborhood.
Last week, I speculated that Masih/Rimsha's release from prison may be delayed due to authorities' concern for her safety. (After her arrest, many of Masih's Muslim neighbors publicly called for her to be burnt to death.) Indeed, Masih/Rimsha has not yet returned home. She, her family, and numerous other Christians from her neighborhood have sought refuge in an "undisclosed location."
Haaretz notes that Masih/Rimsha is "believed to be" less than 14 years old, and that a doctors' panel has declared that she suffers from learning disabilities, and has a low IQ for her age.