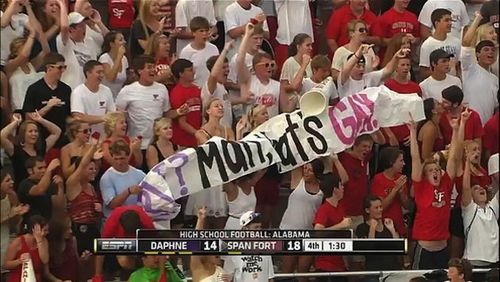 An Alabama state title high school football team between Daphne and Spanish Fort was televised on ESPN over the weekend, as was a banner hoisted up by Spanish Fort students to mock the other team's colors:
"Purple? Man, that's gay."
Another banner mocked the fact that Daphne is a "girl's name".
Baldwin County Schools Spokesman Terry Wilhite told local news station WPMI:
"It was a gimmick to get national attention, and they were successful at that. What they wont be successful at is doing it again. After the game, the students were spoken to. And then back when school resumed the students were again spoken to by the principal and he, believe me, will carry out a disciplinary action."