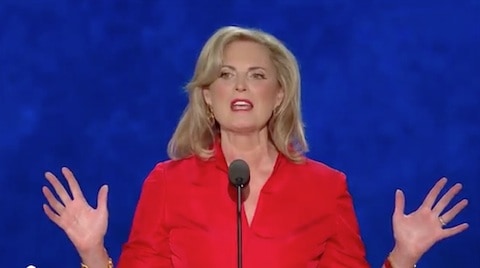 Ann Romney has joined the list of speakers at the Values Voter Summit this weekend, Josh Glasstetter at Right Wing Watch reports:
It's an odd move by the Romney campaign. They've previously deployed her to show the softer side of Mitt. Now they're sending her to stand on stage with a man who paid $83,000 to use David Duke's mailing list and addressed a white supremacist group while in public office. The same person – Tony Perkins – also praised a law in Uganda to execute gays and warned senators they would have "the blood of innocent soldiers on their hands" if they repealed Don't Ask, Don't Tell.
 
The Romney campaign must have its reasons, but it sure seems like an odd way to deploy Ann Romney. They already have Paul Ryan scheduled to address the conference. Do they really need two headliners reaching out to the Bachmann-Akin wing of the party? Besides, just last week Ann Romney refused to answer questions about same-sex marriage and contraception, dismissing them as distractions "from what the real voting issue is going to be."
Earlier today, a coalition of groups called on public officials speaking at the Summit to back out because of the Family Research Council's hateful rhetoric toward LGBT people. Also sponsoring the event are the American Family Association (another SPLC-designated hate group), and the Liberty Counsel.
UPDATE: Apparently the Romney appearance was wishful thinking on the part of the VVS.