Amateur footballer Jake Ball is making news in Australia after coming out of the closet and launching a campaign urging the AFL to air anti-homophobia videos during this month's grand final and stage a "pride round" celebrating diversity.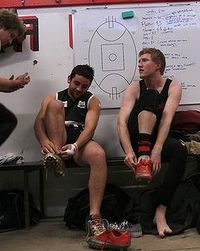 ''It was the one place I never thought I'd be able to come out. Ever. It just felt like a really hostile environment. I worried I'd be bullied, maybe I'd get kicked out of the side, maybe the opposition would treat me differently or I'd get abuse [from supporters] over the fence,'' he told The Sunday Age. ''I didn't know any footballers who were gay, so I could only assume the worst, and it scared me.''
The 24-year-old, who plays for Yarra Glen seniors in the Yarra Valley Mountain District Football League, is a rare voice in a football world that gay groups say is struggling to come to terms with homosexuality in its ranks.
While such groups agree sexuality is a private matter, they say it is significant that no AFL players have revealed their homosexuality.
For Ball, publicly coming out was unnecessary. His teammates figured it out and were supportive. The homophobic language stopped. ''It was like they could see those words have an effect on people because it was hurting me, one of their mates.''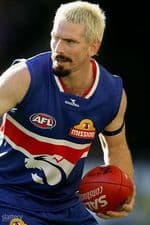 Ball's article was met with a big "Who Cares?" over Twitter by AFL player Jason Akermanis. You may remember Akermanis made headlines in 2010 for telling gay players to stay in the closet because they wouldn't be welcome in the sport.
The Sydney Morning Herald writes:
Akermanis, who caused a media storm in mid-2010 when he wrote a newspaper column advising gay Australian footballers to stay in the closet because the "world of AFL footy" was not ready to accept them, has again dipped his toe into the debate.
When Channel Nine journalist Clint Stanaway yesterday promoted Ball's "brave" story on Twitter, Akermanis responded "Who Cares?" from his @Jakermanis account. Akermanis received a stream of angry messages from people in response, but his post also prompted the creation of Twitter comment stream #WeCareJason, which has also attracted hundreds of messages of support for Ball's campaign.