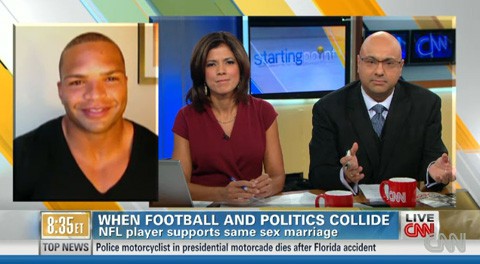 Baltimore Raven Brendon Ayanbadejo appeared on CNN's Starting Point this morning to talk about the letter sent by Maryland lawmaker Emmett C Burns Jr. asking Ravens owner Steve Bisciotti to stop Ayanbadejo from speaking out about gay rights and marriage equality. Burns backtracked over the weekend, but has drawn national attention to the issue.
Watch, AFTER THE JUMP…
CNN contributor Richard Socarides asked Ayanbadejo what the response has been from other players:
There's still some issues that people don't understand, some fundamental issues when it comes to marriage equality.  I think the most problem that players have is the tie between religion and equal rights.  You have to make it, you know, not a religious issue.  It's really just an equal rights issue.  And we're just trying to get approval from every state for each person to marry and not in a church.  We're not going to change anything religiously.  And people have their rights religiously and religious freedom as well.  We're trying to get letters from every state that people can have a marriage document and that's recognized in every state.
 
So once you get over that barrier, guys say, hey, love is love and you should be able to marry who you love.  It's really a changing of the guard in the football community because this even 12 months ago when I was doing op-eds for marriage equality, I would still hear certain snickering in the background.  I think we've changed the tide and come a long way in a short period of time.  And I'm really excited that my cohorts and my teammates and my team, the Baltimore Ravens, and the city and everybody is really supporting and gathering behind me in the cause to treat people fairly all in the name of love.
Also appearing in the segment is former professional football player Wade Davis, who has come out since leaving the NFL. Davis is asked if the League's ready for a gay player.
Says Davis:
"I think we're definitely ready.  The NFL as a whole has made so many great steps and strides.  We have players like Brendon coming out [in support] and the e-mail Chris sent as well.  I think the tide is changing.  I think we're making such great strides.  The NFL brings in players now to do, like, town hall meetings, to talk to other players.  The tide is definitely changing."
Davis says he "can't answer" if he knows of any current players are gay, to which Will Cain interjects: "I'd say that's a yes."
Watch, AFTER THE JUMP…
Background…
MD Lawmaker Asks Ravens Owner to Curb Brendon Ayanbadejo's Support for Equality [tlrd]
Ravens Player Ayanbadejo Responds to Request That He STFU About Gay Rights [tlrd]
Vikings Punter  Kluwe Comes Out Swinging in Defense of Ayanbadejo and Gay Rights [tlrd]
Vikings Punter  Kluwe, Defender of Marriage Equality, Appears on 'The Ed Show' [tlrd]
Anti-Gay MD Lawmaker Burns  Backs Down from Bid to Silence Brendon Ayanbadejo [tlrd]