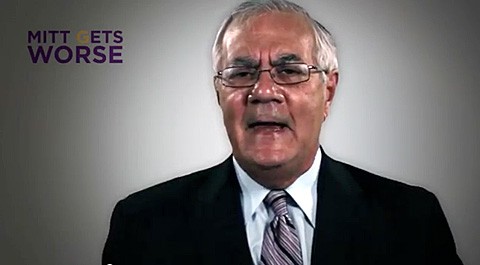 In a new video for the 'Mitt Gets Worse' campaign, Congressman Barney Frank (D-MA) discusses Mitt Romney's non-record on LGBT rights as Governor of Massachusetts.
"I don't really know that Mitt Romney dislikes gay people. [But he is] consumed by ambition and willing to trash minority groups and appeal to prejudice against them for political advancement."
Writes the Mitt Gets Worse campaign:
In the five-and-a-half-minute video, Frank speculates that Romney might reinstitute the military's "don't ask, don't tell" ban on openly gay members, lead passage of a constitutional amendment blocking same-sex marriages and invalidating existing nuptials, and nominate socially conservative Supreme Court justices who would make the court "shut" to LGBT Americans.
Says Frank: "He has never been in favor of any legislation or executive order that would advance our rights. Zero. None."
Watch, AFTER THE JUMP…