Another Republican billionaire is about to make his wallet known in the 2012 election, the WSJ reports: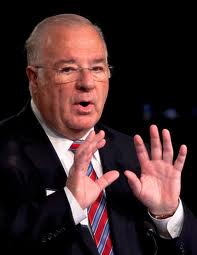 Joe Ricketts, the founder of what became online brokerage TD Ameritrade Inc., plans to spend $10 million airing ads supporting GOP nominee Mitt Romney and another $2 million to help Republicans running for Congress. The ads will begin airing this week.
The ads stack up as one of the biggest electioneering efforts by an individual in the 2012 election. National cable television spots will feature disaffected Obama supporters talking about why they plan to support Mr. Romney. Other TV ads will run in battlegrounds including Wisconsin, Virginia, Ohio and Iowa—states where Mr. Romney needs to do well.
You may recall that Ricketts made headlines back in May when a proposal to try and smear Obama with Rev. Jeremiah Wright egan receiving attention and was supposedly shot down. We'll see if Wright rears his head in the announced ad campaign.
Politico adds:
Unlike the controversial aborted pitch for a $10-million attack highlighting Rev. Jeremiah Wright, billionaire investor Joe Ricketts's new super PAC campaign will use themes and players blessed by Mitt Romney and his allies…POLITICO has learned that the team assembled to carry out the campaign overlaps significantly with the one behind the Romney-blessed super PAC Restore Our Future, including election lawyer Charlie Spies, and ad-maker Larry McCarthy.
The other note to be made here is that Ricketts' daughter and co-Cubs owner Laura is a lesbian, a Lambda Legal board member, and the first openly gay owner of a MLB team. Laura Ricketts is an Obama supporter who attended a $35,800-ticket D.C. fundraiser for the President in February.