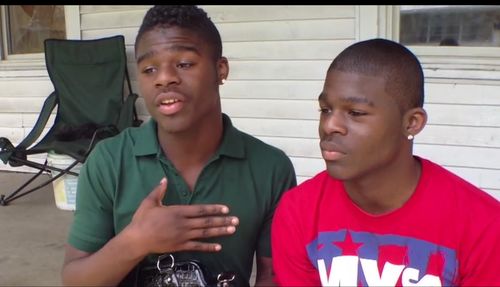 Darnell "Dynasty" Young was expelled from his Indianapolis high school in April for brandishing a stun-gun at bullies. Mr. Young, who occasionally wore a purse and women's jewelry, had allegedly been bullied, attacked, and threatened with violence on numerous occasions before the April incident. His fellow students at Arsenal Technical High School, he said, spat on him, attacked him with rocks and bottles, and promised to beat him up. Eventually, concerned for her son's safety, Mr. Young's mother bought him a stun-gun. Now, Mr. Young is suing his school school district for discrimination, restriction of free speech, and negligence.
From NECN.com:
Darnell "Dynasty" Young, 17, and his mother, Chelisa Grimes, filed
their suit Friday in federal court in Indianapolis. It seeks unspecified
damages over a series of alleged bullying incidents that led Young to
fire a stun gun at Arsenal Technical High School in the spring,
reportedly to scare away bullies …

"Rather than take effective measures to protect him, school
staff told him that he was to blame for the [previous incidents of] harassment because of his
appearance and told him to change his dress and behavior to conform to
stereotypical ideas of masculinity and to be less 'flamboyant,'" the
suit says.
Mr. Young's expulsion from the Indianapolis school system was to have lasted until January. Last month the penalty was reduced: Mr. Young will now be able to attend the full school year, though he will not be allowed to return to Arsenal Tech. He's currently enrolled in a charter school.
You can see an interview with Darnell, and his twin brother Darrell, here.