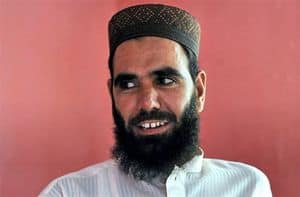 Yesterday I wrote about an illiterate young Pakistani girl imprisoned for allegedly burning pages of a Qur'an to begin a cooking fire, and thereby committing blasphemy — in Pakistan, a crime punishable by life imprisonment. (Or, should "justice" be sought extrajudicially, being burned alive.) Late last night, BBC World reported that new evidence shows the girl didn't burn any pages of Qur'an at all. Rather, she was framed by a local Imam.
Imam [Khalid] Chishti appeared in the Islamabad court with a white blindfold and shackled hands.

There was a large police presence as he was ushered into the building.

"The imam was arrested after his deputy Maulvi Zubair and two
others told a magistrate he added pages from the Koran to the burnt
pages brought to him by a witness," an investigator Munir Hussain
Jaffri said.
Zubair and others reportedly told Imam Chishti not to tamper with the evidence, but Imam Chishti told them doing so was the only way to rid their neighborhood of Christians.
Imam Chishti was arrested yesterday. He is now facing blasphemy charges. The girl, whose name is Rimsha, presumably will not, though she hasn't yet been released from police custody. Perhaps that's for the best. Until the arrest of Imam Chishti, several of her Muslim neighbors were calling for Rimsha's death. It could be that Pakistani authorities will wish to allow the angrier elements of the Islamic public to digest the fact that it was one of their shamans, and not a prophet-denying Christian, who desecrated their holy book.
For the moment, Rimsha's family remains in protective custody.