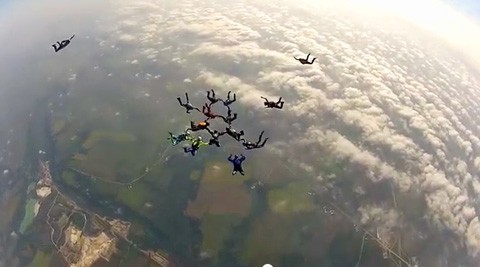 The daredevils at Rainbow Skydive, an LGBT skydiving event, contacted us with a video which shows what they claim to be the world's largest gay formation skydive.
Writes the group:
On Labor Day, 15 gay skydivers from all over the world participated in the world's largest gay formation skydive above Skydive Chicago in Ottawa, Illinois. The jump coincided with the Rainbow Boogie, an annual event that brings GLBT skydivers and allies together to celebrate the community's inclusion within the sport. While the remnants of Hurricane Isaac interrupted the weekend with some undesirable weather, the group gathered Monday morning to build an impressive looking formation in the sky — by far the largest for several of the newer members.
Rainbow Skydivers first became organized in 2006, and currently has over 300 members from numerous countries. While many are licensed skydivers, the group also encourages and helps prospective daredevils to make their first tandem jump and experience the thrill of freefall.
Check out video of the record-breaking formation, AFTER THE JUMP…