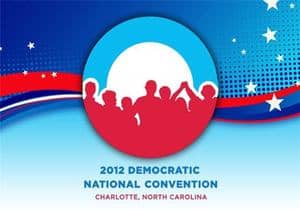 Again proving themselves more inclusive than their Republican rivals, the Democratic Party made sure to include marriage equality in their official 2012 platform, which was released this morning ahead of the Democratic National Convention in Charlotte.
From the Democratic platform section entitled "Protecting Rights and Freedoms":
Freedom to Marry: We support the right of all families to have equal respect, responsibilities, and protections under the law. We support marriage equality and support the movement to secure equal treatment under law for same-sex couples. We also support the freedom of churches and religious entities to decide how to administer marriage as a religious sacrament without government interference.

We oppose discriminatory federal and state constitutional amendments and other attempts to deny equal protection of the laws to committed same-sex couples who seek the same respect and responsibilities as other married couples. We support the full repeal of the so-called Defense of Marriage Act and the passage of the Respect for Marriage Act.
That particular section of the platform also reiterates President Obama's commitment to gender equality, protecting a woman's right to choose and the party's hope that assault weapons can be pulled off of American streets, a move that would save countless lives.
Here is a
PDF of the entire platform.