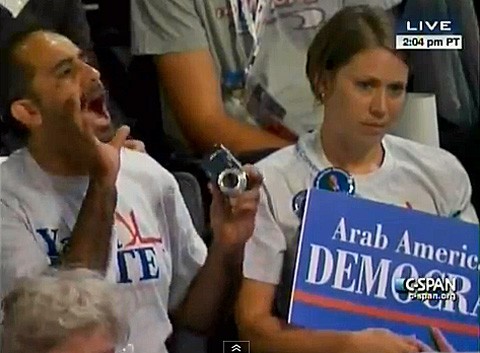 Earlier today I reported on the removal of "God" from the Democratic platform and the fuss the right-wing was making over it. This afternoon, in a voice vote which was taken three times (in a procedure which provoked much confusion), "God" was put back in the platform, as was language declaring Jerusalem the capital of Israel.
Watch the awkward vote, AFTER THE JUMP…
DNC chairwoman Debbie Wasserman Schultz released a statement:
"The platform is being amended to maintain consistency with the personal views expressed by the President and in the Democratic Party platform in 2008. Jerusalem is and will remain the capital of Israel. The parties have agreed that Jerusalem is a matter for final status negotiations. It should remain an undivided city accessible to people of all faiths.
"It has been the policy of both Republican and Democratic administrations for decades that Jerusalem is a final status issue to be negotiated directly between the two parties, as part of discussions to achieve a two-state solution that secures the Jewish state and homeland. Our Party platform already expresses strong support for the peace process and makes clear the steps that any Palestinian partner must take to be a part of such a process  — recognizing Israel's right to exist, rejecting violence, and adhering to existing agreements."
Buzzfeed reports that Obama personally intervened to put the language back in.
Watch the awkward vote, AFTER THE JUMP…