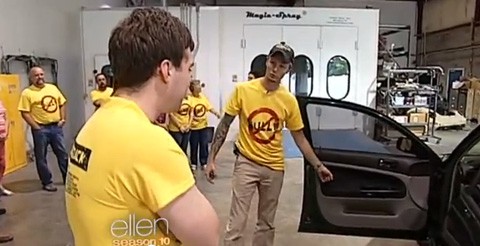 A couple of weeks ago I featured the story of Jordan Addison, a bullied gay teen in Roanoke, Virginia and Richard Henegar Jr., a car repair shopw owner. Jordan's car was vandalized with anti-gay graffiti four times between March and May of this year. Someone even keyed "die" into the side of Jordan's car.
Henegar, who owns Quality Auto Paint and Body, heard Jordan's story and decided to help him by fixing his car for free and improving it.
This week Ellen had them on her season premiere and gave each of them a huge check.
Watch, AFTER THE JUMP…