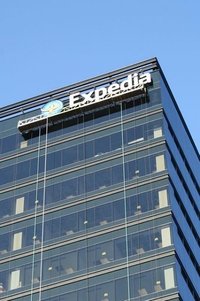 Joining the ranks of Bill Gates and Amazon's Jeff Bezos, the travel-booking site Expedia.com today announced that it supports Referendum 74, the ballot measure that would uphold marriage equality in Washington State.
"As the world's largest online travel company — with operations in well
over 30 countries — we know firsthand that the world is a diverse
place.  Much like our customers, clients, partners, and suppliers, our
employees represent a multitude of locations, cultures and experiences," said Dara Khosrowshahi, CEO of Expedia, a company whose holdings include Hotels.com and Hotwire.
Khosrowshahi continued:
We strive to actively promote equality in our workplace and are
committed to treating one another with respect and dignity…Today, we add
our voice to the topic of marriage equality. We thoughtfully engage in
this public discussion because it has significant impact on our
employees, customers, and partners, all with whom we interact daily. 

Supporting the legislation recently passed in Washington State — which
provides same-sex couples with the same right to civil marriage that
opposite sex couples already enjoy — is a natural extension of our
ongoing commitment to the LGBT community.
In a press release sent out by Washington United for Marriage, campaign manager Zach Silk lauded Expedia's decision. "Like other corporate leaders, Dara Khosrowshahi understands that
treating all families fairly and allowing all loving couples the freedom
to marry is a core value that builds strong communities and strong
businesses," he said. "When most people think travel, they think Expedia and we
couldn't be more excited to have them join our effort to Approve
Referendum 74."