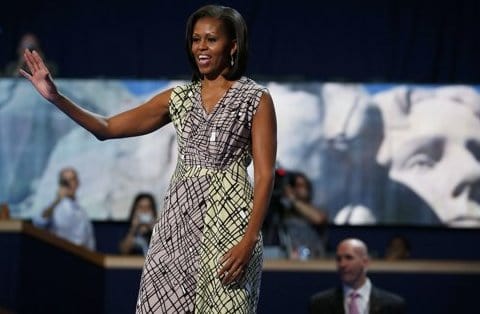 The White House has yet to release prepared remarks for First Lady Michelle Obama's speech at the Democratic National Convention, but according to Mrs. Obama herself, she will use her allotted time to compare and contrast her husband's values with Mitt Romney's.
"[The President] somebody who believes in honesty. Somebody who believes that the truth matters," Mrs. Obama told radio host Yolanda Adams. "With every policy he has put forth, he tells us who he is. I'm reminding people of who Barack is and those values are what guide him and those are the values that need to guide this country for the next four years and beyond."
Meanwhile, in an interview with Sirius XM radio host Joe Madison, the first lady remarked, "I am going to remind people
about the values that drive my husband to do what he has done and what
he is going to do for the next four years."
It's most likely, though, that she'll avoid mentioned Mitt Romney by name and instead leave ugly mud-slinging to the professionals, says Krissah Thompson at The Washington Post.