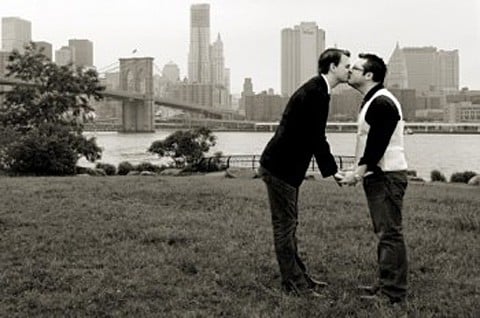 The Southern Poverty Law Center, on behalf of Brian Edwards and Tom Privitere, a gay NJ couple, is filing a federal lawsuit against Public Advocate of the United States, the conservative non-profit organization led by Loudoun County Supervisor Eugene Delgaudio.
Delgaudio's group stole the couple's wedding photo for use in an anti-gay political mailing, the AP reports: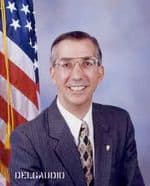 The photo was used in mailers in a June primary election involving Sen. Jean White, one of a handful of Republicans who supported a civil unions bill that was blocked in the state House. The mailer, which replaced the Manhattan skyline with a snowy background, read: "State Senator Jean White's Idea of 'Family Values?'"
White lost the primary against a fellow Republican in a northwestern Colorado district.
Ypu may recall some of Delgaudio's past antics. He fought tooth and nail against an anti-discrimination ordinance in Loudon County, labeling transgender people "it" and "real life Tootsies" and has had an ongoing campaign against the Student Non-Discrimination Act which included an email sent out by the Weekly Standard warning people that federal anti-bullying legislation is a secret plan to "indoctrinate" children with "homosexual propaganda".