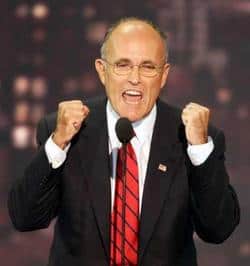 Rudy Giuliani has officially distanced himself from former aide and GOP New York Senate hopeful Juan Reyes to back fellow Republican Eric Ulrich's campaign instead.
The rumor mill began churning out news yesterday that former New York City Mayor Giuliani planned on denouncing Reyes for his homophobic primary campaign mailer accusing Ulrich of being too "gay-friendly", and Giuliani didn't disappoint when he finally did the deed in the evening.
"After seeing what his campaign has done, which is disgusting, Juan doesn't belong in politics. I don't know where he belongs, but he belongs someplace else," Giuliani said before turning all ad hominem on former friend Reyes: "I find these attacks, the gay-bashing attacks, childish, silly and a real indication you don't belong in public service."
Reyes, meanwhile, is probably trying to scrape together what support he can and hope that his political career isn't completely over, which is a very likely scenario.