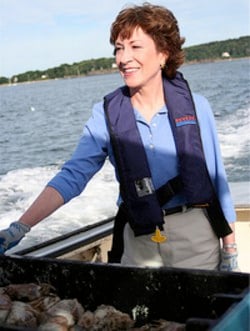 "Update." That's the operative word in Republican Sen. Susan Collins' statement of support for the Uniting American Family Act, proposed legislation that would let gay or lesbian Americans sponsor an international partner for residency here in the States, with them.
Without it and without federal marriage recognition, these couples are more often than not torn apart, or the American elects to leave the U.S. of A.
"This legislation would simply update our nation's immigration laws to treat bi-national couples equally," Collins, a moderate Republican who fought against Don't Ask, Don't Tell, said when announcing her support for UAFA yesterday.
Collins continued,  "More than two dozen countries recognize same-sex couples for immigration purposes. This important civil rights legislation would help prevent committed, loving families from being forced to choose between leaving their family or leaving their country." Rather than languishing in the past, as we are now, Collins — and others, too — would like to see the United States, once a bellwether for democratic progress, get with the times.
She is the first GOP lawmaker to sign onto the act, says Chris Johnson at the Washington Blade, but is only the 27th co-sponsor of the legislation. And for all her pro-equality history, Johnson notes that Collins' support here is shiny and new:
[Collins] co-sponsorship of UAFA is also noteworthy because in 2010 she was among the "no" votes on another immigration-related bill called the DREAM Act, which would have offered young, undocumented immigrants a path to citizenship if they pursue a college education or military service.

Advocates have sought to include UAFA as part of larger immigration reform legislation that was under discussion during the 111th Congress when Democrats controlled both the House and Senate. But that larger bill never advanced beyond the introduction of LGBT-inclusive legislation that was co-sponsored only by Democrats.
With the current right-leaning trends within the GOP, though, it may be a while before any of Collins' party peers hop aboard this particular political boat.
R. Clarke Cooper from the Log Cabin Republicans described the Maine Senator as the "tip of the spear" among GOP leaders. Hopefully that tip won't be worn down to a nub by high conservative pressure.