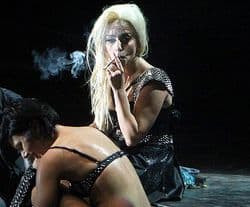 BY SAM GREISMAN
A look back at some of today's big stories
The Democrats are having a field day with Mitt Romney's latest gaff. The President himself appeared on The Late Show with David Letterman last night and was immediately asked about Romney's '47 percent'. Obama supporters are also taking full advantage of Romney's faux-pas, as evidenced by this new ad released by an Obama super PAC. 
Needless to say Romeny's latest foot-in-mouth problem has been excellent fodder for late night television. Watch Jon Stewart skewer the GOP nominee last night. Jimmy Fallon also got in on the act, mocking Romney's emergency response to the debacle. 
**
Elizabeth Hasselbeck of The View fame has never had any qualms about her very conservative views. It should be no surprise then that she stands fully behind Romney's belief that we are all far too dependent on the government. Big surprise!
**
Just when we thought we had finally heard the last of all the Chick-fil-A nonsense, here they come again. At least it's for something good this time, as the company has promised to no longer donate to anti-gay groups. We'll believe it when we see it. 
**
Yesterday we reported on the punishment for Blue Jays shortstop Yunel Escobar over the homophobic words written in his eye black. Here is his press conference from yesterday. Today, Ozzie Guillen, manager of the Miami Marlins and no stranger to controversial and homophobic remarks, came to the defense of Escobar, stating that he calls everyone in his home that word. Seems like a fun house.
**
Modern Family's Jesse Tyler Ferguson announced his engagement today. Check out this adorable video with his fiance. Sweet bow ties guys!
**
Video of the Day: Check out Neil Patrick Harris facing his phobia of haunted mansions.
Music Video of the Day: Lady Gaga performed in Amsterdam last night and took a few seconds to smoke some weed in front of everyone.