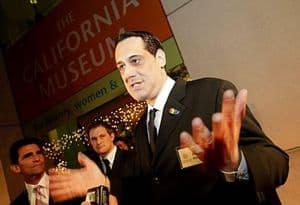 Stuart Milk, nephew of assassinated gay rights activist Harvey Milk and an equality activist in his own right, is throwing his weight behind out Wisconsin Rep. Tammy Baldwin's Senate campaign.
In a post over at the Gay & Lesbian Victory Fund's Gay Politics site, Milk compares Baldwin, potentially the first openly gay person to be elected to the U.S. Senate, to his uncle, the first openly gay man elected to public office.
"Harvey Milk was my uncle, but he's also my hero. His election proved what we're capable of when we stand up for ourselves, stop listening to the naysayers and rally our community to action.  We're capable of winning – and making history," he writes. "That's exactly what Tammy Baldwin is doing."
…With our help, Tammy will break a glass ceiling that has existed for more than two centuries. She will fight for the people of Wisconsin, but Tammy will also represent millions of LGBT Americans who have never had an authentic voice in the Senate.

Like my uncle Harvey, Tammy has faced doubters who thought she couldn't be honest about herself and win. But in every single campaign, she has proven them wrong. Now we're seeing the proof that this race is winnable too – and that history can be made again.
Harvey Milk's legacy can live on through Baldwin, says Stuart Milk, and though Baldwin is ahead of hateful opponent Tommy Thompson in the polls, she could still use your help, either in the form of greenbacks or volunteered hours in the Badger State.