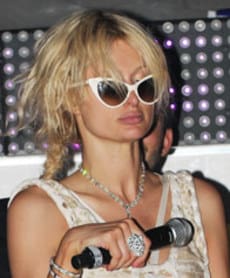 The word "shocking" is often inserted into headlines to grab reader attention, to sensationalize video, audio or text that may not in the end be that shocking. 
Not so with Radar Online's headline on Paris Hilton's odious remarks about gay men who meet on Grindr: "SHOCKING AUDIO: Paris Hilton Blasts Gays Who Have Sex With Strangers: 'Most Of Them Probably Have AIDS'".
According to the site, a New York City cab driver recently sent them secretly recorded audio of a conversation Paris and a gay male friend had about Grindr.
Explaining the hook-up app to the heiress, the friend remarks, "Say I log into Grindr, someone that's on Grindr can be in that building and it tells you all the locations of where they are and you can be like, 'Yo, you wanna f**k?' and he might be on like, the sixth floor."
Paris' response: "Ewww. Eww. To get f**ked? Gay guys are the horniest people in the world. They're disgusting. Dude, most of them probably have AIDS." She later says she would be "afraid" to be gay because "You'll, like, die of AIDS."
Hilton's PR team, dealing with the biggest gaffe they've had to face in a long time because their client has for the most part dropped out of public interest, claims the 31-year old was only talking about HIV-positive men who go in search of unprotected sex.
Paris Hilton's comments were to express that it is dangerous for anyone to have unprotected sex that could lead to a life threatening disease.

The conversation became heated after a close gay friend told her … a story about a gay man who has AIDS and is knowingly having unprotected sex. He also discussed a website that encourages random sex by gay men with strangers. As she was being shown the website her comments were in reference to those people promoting themselves on the site.

The cab driver who recorded this, only provided a portion of the conversation. It was not her intent to make any derogatory comments about all gays. Paris Hilton is a huge supporter of the gay community and would never purposefully make any negative statements about anyone's sexual orientation.
Sigh.