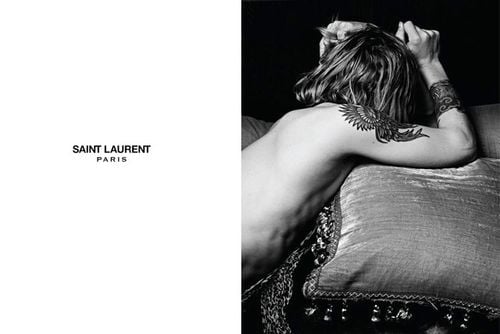 A much-anticipated campaign from Hedi Slimane for Saint Laurent Paris made its debut today, and features musician Christopher Owens.
WWD writes:
The pale flesh, long hair and cushions bring to mind the famous nude fragrance ad from 1971 of the founding couturier — although only Owens' torso is visible. Saint Laurent — Slimane's new moniker for the Yves Saint Laurent collection and stores — is spelled across the opposite white page, with the word "Paris" underneath. A YSL spokeswoman described the campaign as "institutional," to convey an atmosphere, with the Owens spot the first of 15 different images. Future campaigns are to feature Saint Laurent fashions.
 
Owens was until recently the lead singer of the San Francisco band Girls, and he has been photographed previously by Slimane, who plans to continue working as a photographer in addition to his role as creative director of YSL.
Thoughts?